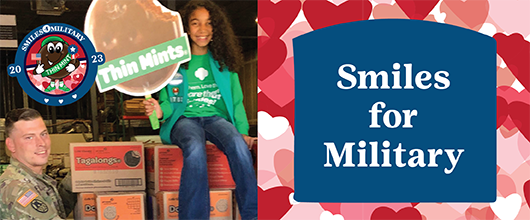 Smiles4Military
With Smiles4Military you can support two causes at the same time—a girl-led cookie business and the brave men and women of our military.
When you donate Girl Scout Cookies you are helping bring smiles to hundreds of thousands who serve our country. Show how much you appreciate their service by giving them a little taste of home.
During the 2017 Girl Scout Cookie Program our local community donated over 160,000 boxes of cookies through the Smiles4Military program.
---
How Girl Scouts can participate in Smiles4Military
Collect donations of $4.00 per box and note the sales on your girl order card. Customers can also select cookies to donate on Digital Cookie. At a cookie booth, give customers a Smiles4Military receipt to document their donation. Girl Scouts of Greater Atlanta will order and ship the donated Girl Scout Cookies to military focused organizations. Girls who sell at least 12 Smiles4Military boxes will earn the Smiles4Military Patch or Year Bar rocker!
New! Market Smiles4Military at your Cookie Booth with a box wrap (wrapper needs to be printed on 11x17 sized paper).
---
How to Create Your Own Care Project
As a troop, choose a group to receive donated Girl Scout Cookies. The possibilities are endless: fire fighters, police officers, and homeless shelters! Communicate to customers that they can buy cookies and to donate to your troop's chosen group. Deliver the donated cookies at the end of cookie season.
---
Thank You to Our Partners
Without the help of these fantastic military focused organizations, Girl Scouts of Greater Atlanta would not be able to get thousands of Girl Scout Cookies into the hands of military troops around the world. Thank you for your support!