ACTION NEEDED: Ask legislators to support renaming Savannah's bridge to honor Juliette Gordon Low! Click here for info.

Join the largest girl-led entrepreneurial program. The Girl Scout Cookie Program is the world's leading business and financial literacy program by and for girls. Much more than a way to raise money, the Cookie Program is a hands-on leadership experience. Girls learn essential skills, not from a book, but from real-life experiences! These are skills that last far beyond Cookie Season! Get started today.
Continue >

Make it an altogether awesome Cookie Season. Check out these great tools to help you reach your cookie sale goals, and rock this season harder than ever before.
Continue >

With Smiles4Military you can support two causes at the same time—a girl-led cookie business and the brave men and women of our military.
When you donate Girl Scout Cookies you are helping bring smiles to hundreds of thousands of men and women serving our country. Show how much you appreciate their service by giving them a little taste of home.
Continue >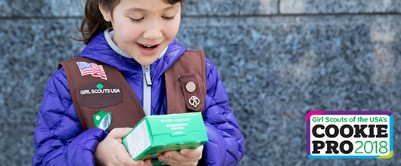 Get ready to enter our national Girl Scout Cookie Pro Contest 2018 to unlock an awesome, limited-edition Cookie Pro 2018 patch and the chance to travel to New York City for an all-expenses-paid Cookie Entrepreneur Experience, including a chance to have your smiling face featured on the Girl Scout Cookie box—SWEET.
Continue >