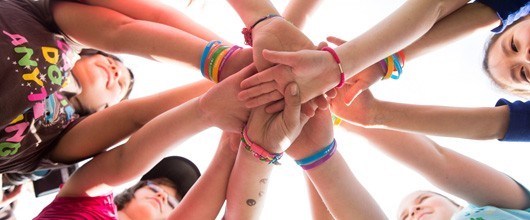 Other Ways to Support Our Council
Gifts of Stock
Gifts of appreciated stock or securities can provide you with the opportunity to make a substantial gift to our Council and use the gift as a charitable tax donation. Here are the simple steps to transferring appreciated stock and securities to the Council.
---
Matching Gifts & Volunteer Service Grants
Matching Gifts provide you with an easy way to potentially double, if not triple, your original donation! Many organizations supplement their employees' contributions to some organizations (specifications of the match vary based upon each organization). Your company, your spouses' company, or even a company you are retired from may match your gift. Go here to see if your company matches gifts.
Volunteer Service Grants are corporate giving programs in which companies provide monetary donations to organizations where employees volunteer regularly. If you volunteer for the Girl Scouts of Greater Atlanta in any capacity, go here to see if your company offers this amazing opportunity. Half of the funds received from volunteer service grants, up to $250, can go directly back to your troop!
If your company's information did not appear, your employer may still have a matching gift or volunteer service grant program. Please contact your HR department to find out if your gift can be matched.
---
Workplace Giving
If you are giving to the Girl Scouts of Greater Atlanta through your work's payroll, please let us know so that we can celebrate and thank you for your gift.
---
Amazon Smile
Support Girl Scouts while you shop! Make sure to designate the Girl Scout Council of Greater Atlanta through AmazonSmile. Amazon will donate 0.5% of your purchase to our Council. AmazonSmile has the same products, same prices, and same service as the Amazon you know. Just make sure to start shopping through smile.amazon.com in order to give to our Council today!
Amazon Wish List
Make Girl Scout wishes come true!
One of the easiest ways to support Girl Scouts of Greater Atlanta is to shop through our wish list on Amazon. Buy the supplies girls need for use at camp, when earning badges, in troop meetings, and more from the convenience of home and items will be shipped directly to the Mableton Service Center!
NOTE: When you are ready to check out, please type your name and preferred contact information in the "gift message" box to receive a thank you note and tax letter from headquarters. Thank you so much for your support of Girl Scouts of Greater Atlanta!
---
Kroger Community Rewards
Do you have a Kroger Plus card? You can link your Kroger card to Girl Scouts of Greater Atlanta and we will receive a percentage of your purchases! Go to www.krogercommunityrewards.com to link your card.