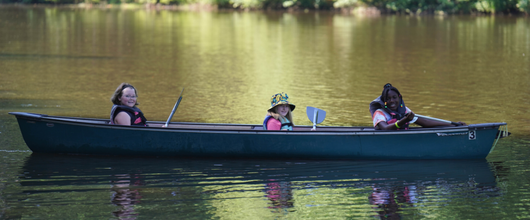 Sleepaway & Day Camps
The 2018 Sleepaway & Day Camps season is now open for registration! Register today and plan to unleash your inner G.I.R.L.(Go-getter, Innovator, Risk-Taker, Leader)™, and discovered you can accomplish anything!
---
Camper Availability

Camp Open House

Open House Schedule

Camp Timber Ridge Open House

1:30 p.m. - 4:30 p.m. Sunday, March 11
1:30 p.m. - 4:30 p.m. Sunday, May 6




Camp Meriwether Open House


Camp Misty Mountain Open House

10 a.m. - 4 p.m. Sunday May 20

Summer Camp Bus Transportation

We are excited to offer bus transportation again in 2018. Camp Timber Ridge will offer transportation all summer, Camp Misty Mountain (July 8-21) and Camp Meriwether (June 17-30) will offer transportation during one of their two week camp sessions. Avoid the drive and your camper will enjoy the ride with other girls and staff.

Times are an estimate and will be adjusted after the first week
Day Camp staff will be at each stop by 7:20 am each morning to greet girls and supervise them until the bus arrive (CTR)
All stops will have a building or covered area
Day Camp staff will we will stay at each parent pickup stop 30 minutes after the published pickup time for you to pick up your daughter (CTR)
We will be using text service to communicate with you about delays each day if there are any!

Fees:

Camp Timber Ridge $80 Round Trip - per camper - per week
Camp Misty Mountain (July 8-21) $40 Round Trip or $25 One Way - per camper
Camp Meriwether (June 17-30) $40 Round Trip or $25 One Way - per camper

FAQs

Q: Can I mail in a registration instead of registering online?
A: Yes you can. Print the application, complete it and mail it in with your deposit of $50.

Q: Is my daughter ready for sleepaway camp?
A: If your daughter has successfully spent the night at grandma's house, she's most likely ready. It helps to be clear about why you're sending her to sleepaway camp. Whether it's to make new friends, learn something new, or gain independence, it starts with you sharing your goals for a positive camp experience. If you're upbeat about the upcoming experience, your child is more likely to reflect the same attitude. Our camp professionals' goal is to have each child have a successful social learning experience while at camp through great activities and community living.

Q: How will my child be supervised?
A: Camp professionals are trained to supervise campers to make sure they are properly fitted for a life jacket, but also making sure they are changing their clothes every day, drinking water, and applying sunscreen. Girl Scouts places a high priority on safety and train staff in all aspects of camp life.

Q: How is camp staff selected and screened?
A: Camp staff includes homegrown Girl Scouts who have many years of experience in scouting, as well as students from local universities. After references are verified, all counselors are required to have an interview with the Camp Director. All staff must also pass a criminal background check. The most important trait we are looking for in our camp staff is the desire to create a lasting experience for your daughter.

Q: How will I communicate with my child at camp?
A: In general, we work to promote independence and group cohesion in campers by discouraging telephone contact. We ask that all cell phones remain at home. The Camp Director will contact the guardian if a camper is having trouble adjusting to camp life after 24 hours onsite or if there is a health concern. Parents may virtually visit their camper daily by viewing photos on a Website operated by an outside source at no charge. Campers also love "real" letters and care packages that are mailed to them during their stay.

Q: What if my daughter has special needs?
A: In order to lay the foundation for success, parents and Camp Directors must partner in sharing information about your daughter's health history. While Girl Scout camp can accommodate 95% of all girls, the other 5% require a different environment with staff trained to meet their needs. With this in mind, please contact camp@gsgatl.org prior to registration if you question whether your daughter's needs can be met at our camp. If this isn't the best camp environment for success, we will assist you in the search for a camp setting that is setup to provide a great experience for your daughter.

Q: How will my daughter's special dietary needs be handled?
A: We can accommodate for a variety of special dietary needs. Examples of ones we accommodate for regularly are nut free, gluten free, no pork, no seafood/fish, vegetarian, lactose free, and no red meats. If you have a camper with more extensive allergies or combination allergies such as no wheat/egg/dairy we might ask you to bring items that are safe for her to consume.

Dietary restrictions must be on your camper's health history and email the camp director as well. It is also a good idea to communicate with the camp prior to your campers arrival. We ask this be done via email/phone at least 2 weeks prior to her arrival. We appreciate parents that touch base with us prior or immediately following the registration of camp to make sure we are all on the same page if the allergy is complicated.

The most important thing to ensure the camp can accommodate your camper's food restrictions is to communicate with them directly.

Q: What if the pick up or drop off times do not work for us?
A: Sleepaway campers
Scheduled drop off and pick up times are listed in your 'What to Expect Packet'. If you need to arrive later then the scheduled time contact the camp director 1 week prior to the start of her camp session and let them know what time she will be arriving.

While camp staff are preparing for your camper she will not be able to arrive prior to the start of the published arrival time.

If you need to pick up your camper prior to the stated pick up time, let the camp director know when you drop her off. There is no late pick up options.

Day Campers
There are additional options to choose early drop off or late pick up for each day camp week for an additional fee.
Before Care: $25/week 6:45-7:45am


Aftercare Options:
Basic Aftercare: $25/week 4:45-6pm
Basic Aftercare with swim lessons: $75/week 4:45-6pm
Extended Aftercare: $45/week 4:45-7pm
Extended Aftercare with swim lessons with dinner: $95/week 4:45-7pm

Q: Can my camper have a buddy at camp?
A: Campers are welcome to sign up for camp with a friend or two who are within one grade of each other and interested in the same session of camp. If camp buddies are different grades (for example: fourth and fifth grade), they will be placed in a living unit based on the younger camper's grade.

Even the best of friends need time to explore their individual interests and make new friends while at camp. Camp buddies stay in the same cabin, but may or may not select the same camp activities. Campers registered for horseback riding are grouped according to riding skills, camp buddies in the riding program may be at different skill levels and may not be placed in the same riding period. If they choose different activities or are placed in different activities due to horseback riding, they will still be together again in the cabin, during unit time, at meals and all-camp activities.

Many girls come to camp without a buddy. Camp is a wonderful place for girls to make new friends. Our annual outcome survey of campers tells us that 99% of girls make new friends at camp.

Financial Aid

The council has established a camp Financial Assistance fund for girls who are registered members of Girl Scouts of Greater Atlanta. This fund is supported by the community and individual donations for girls who are active members of our Council. Assistance awarded will cover a partial amount of the base camp fee for Tier B pricing only.

Sleepaway camp and Council day camp financial assistance available.

Financial Aid Online Form

Financial Aid Printable PDF Form

Summer Camp Leadership Program

Are you interested in learning some valuable professional skills and receiving a formal certificate to supplement your future college admission applications all while experiencing the summer experience of your life?
Do you value connections, relationships, growth and learning? Do you have a special place in your heart for young, or first time, summer program attendees?
Have you attended camp as a camper at one of our locations?

Learn more about Counselor In Training 1 & 2, Counselor Intern and Program Aide for Summer 2018

Tier Pricing

What is Tier Pricing?
We believe that every girl, regardless of financial circumstances, should have the opportunity to experience camp. To keep camp affordable for all families, we've adopted a voluntary tiered pricing structure.

While the cost to maintain our outdoor properties and create inspirational programming continues to rise, we understand that families have differing abilities to meet those costs. Tiered pricing gives families the opportunity to choose which option works best for them. All campers will have the same experience regardless.

Tier A: The actual cost for each girl to attend camp. This includes costs like program supplies, staffing, training, insurance, certification and inspection fees, food, and maintenance costs.

Tier B: Camp fee that is much lower than the true cost of camp. These rates are subsidized through fundraising, special events, and the hard work of Girl Scouts during the Cookie Program.

What to Expect Packets

Camp Care Kits

Get ready for Camp with a Camp Care Kit! Kits are delivered directly to your Girl Scout during her time at camp. This year's Camp Care Kit includes: Backpack, Activity Journal, Plush Teddy Bear, and Foldable Water Bottle Bag, Sunglasses and Headband.

Camp Care kits are available for overnight campers only. Camp Care Kits must be pre-ordered and will not be available for purchase in the camp stores. Quantities are limited.
---
Learn More About Each Camp