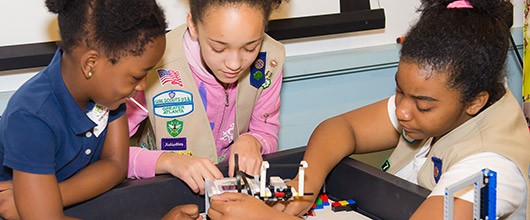 STEM
This program will ignite girls' natural curiosity and creativity while they build critical thinking and problem solving skills related to the fields of science, technology, engineering, and mathematics.
Ways girls (grades K-12) benefit in Girl Scouts:
Girl Scout Robotics Series Program
SUPER STEM Expo
STEM Community Partners
---
Girls who explore STEM...
Are leaders
Don't give up when things are hard
Try new things even when they may not be good at them
Still try new things even if they are afraid of making mistakes
Do important things
---
Girl Scouts of Greater Atlanta offers girls the opportunity to participate on FIRST Lego League. Participation on Girl Scout teams allows girls to learn and gain practical skills in a non-competitive single gender environment. Girls have an opportunity to solve real-world engineering challenges by building LEGO-based robots to complete tasks on a thematic playing surface. Each team is led by a registered Girl Scout adult volunteer and mentors that provide expertise in robot design and project specific topics. Each season Girl Scout teams in the Greater Atlanta area give back to their community by organizing an outreach or recruitment event for Girl Scouts and non-Girl Scouts.
Through FIRST Robotics, Girl Scouts are able to:
Design, build, test and program robots
Apply real-world math and science concepts
Research challenges facing today's scientists
Learn critical thinking and presentation skills
Develop problem-solving, organizational, and team-building skills
Learn gracious professionalism through competitions and tournaments
Ways adults can support Girl Scout Robotics programs:
Team Details
Who: Girls ages 9-18 in 2015 (Girl Scout Juniors – Ambassadors)
Girl Scout troops, individual Girl Scouts, and friends not currently Girl Scouts are encouraged to participate on teams (girls must be registered Girl Scouts to participate).
We offer 3 different levels of Robotics for every stage of Girl Scouts!
GSGATL also offers trainings and social events to build our Robotics Community! Check the GSGATL calendar for more information.
Get More Info.
---
Google and the Girl Scouts have teamed up for an amazing program called...Made with Code.
Begin Your Project Now
Girls can explore, write, and create with computer coding. The 'code projects' bring coding to life in a creative, colorful, and animated way. Let's write our own future! Literally.
Party Kit
The DIY Made with Code Party Kit guide includes everything needed to host a party all of your own. Spread the love of coding with your friends!
Patch
Display your love of coding with the Made with Code Patch. To earn your patch, visit the Made with Code Google Site, and complete one of the activities. After completing the activity, e-mail stem@gsgatl.org with your name, troop number, address, and the name of the activity you completed. Your Made with Code Patch will be mailed to you within 7-14 business days.
---
GSGATL's Council's Own STEM Badges:
---
STEMPower
Stempower is a group of Georgia Tech students devoted to bringing fun STEM activities to Junior troops. Thank you for your participation in this program; your positive response was overwhelmingly positive.
Please check back again Fall 2017 for the next STEMPower opportunity.